Goose Exterminator of the Netherlands Enrages Animal Rights Activists

15-06-2015
WIJK BIJ DUURSTEDE, Netherlands — The hiss of gas, released by a red lever turned by Arie den Hertog in the back of his white van, signaled the start of the massacre. The victims, crammed into a sealed, coffin-like wooden case, squawked as they struggled to breathe. Then, after barely two minutes, they fell silent.
Glancing at the timer on his cellphone, Mr. Den Hertog declared the deed done. "Now it is all over," he said proudly of his gruesomely efficient handiwork, on a gloriously sunny day beneath a row of poplar trees on the banks of the Lower Rhine.
Reviled as a Nazi by animal rights activists but hailed as a hero by Dutch farmers, Mr. Den Hertog, 40, is the Netherlands' peerless expert in the theory and practice of killing large numbers of wild geese.
On his recent outing to Wijk bij Duurstede, a village in the Utrecht region southeast of Amsterdam, he killed 570 graylag geese in his portable gas chamber, fitted with two big canisters of carbon dioxide. That brought his death toll to more than 7,000 for the week. "It is not fun, but it has to be done," he said of his work.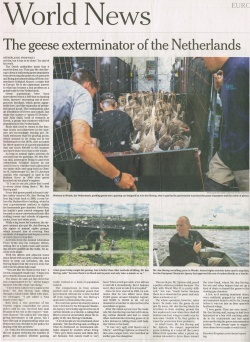 Bron: New York Times
Bekijk volledig artikel